Funding options
There are three ways funders can contribute to CFE programmes run by the ASISA Foundation:
Short-term funding: ASISA members. The Foundation's structure enables members to comply with the FSC requirements to spend 0.4% without bonus points, or 0.5% with bonus points, of NPAT on CFE.
Medium-term funding: ASISA members, as well as major donor or grant funding organisations, public entities or corporates, through projects that align with the specific goals and objectives of these organisations.
Long-term funding: ASISA members, donor or grant funding organisations, as well as distributions from entities in which the Foundation is a beneficiary or shareholder, such as the ASISA Enterprise and Supplier Development Trusts.
Benefits to funders
In terms of the FSC, grant contributions or donations made to the ASISA Foundation (considered a third party) to support CFE or SED, will facilitate immediate 100% FSC points scoring.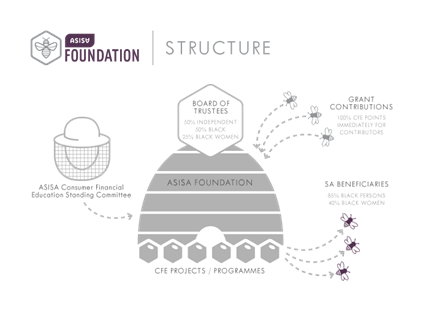 Additional benefits
Supporting the Foundation in implementing sustainable CFE projects with significant impact through the benefits of scale achieved by pooling industry resources.
Taking advantage of the Foundation's strong legal and governance structure, which facilitates immediate point-scoring and ensures that deployed funds are well managed.
Supporting an outsourced team focussed on CFE projects that comply with the letter and the spirit of the FSC.
Benefits to beneficiaries
Attendance to workshops is free.
Complex content is conveyed in a simple, story-based way.
Workshops are interactive in the language of the attendees' choice.
Tools are provided to help with budgeting and other financial decisions.